Nach Bijoux

8.000 RSD

Women tee-shirt with a printed tiger. Straight cut, short sleeves, V collar. Small porcelain piece on the right sleeve. Hand-drawn pattern. Delivered with its laundry net. Composition: 100% cotton.</p> ...

Nach Bijoux

5.900 RSD

Porcelain figurine, hand-painted. Brass with gold plated or silver. Sold separately.</p> ...

Cult Gaia

9.900 RSD

These beautiful rattan bracelets are woven from bamboo to make a striking sculptural bracelet and arm accessory. Stack these bangles on your wrist or wear them on your arm. More is more. Large: 16,5cm outer, 7,6cm inner. Small: 13,3cm outer, 6,9cm in...

Cult Gaia

37.900 RSD

A new timeless interpretation of Cult Gaia's classic bag. The perfect elevated day to night clutch. Intricate texture. Material: 100% acrylic. Includes box + dust bag, which may be used as an inner liner. Dimensions: 27,9 x 7,6 x 20,3 cm.</p> ...

Superduper Hats

24.200 RSD

Join the hatters club! Composition: 100% natural straw, gros grain sweatband.</p> ...
Love stories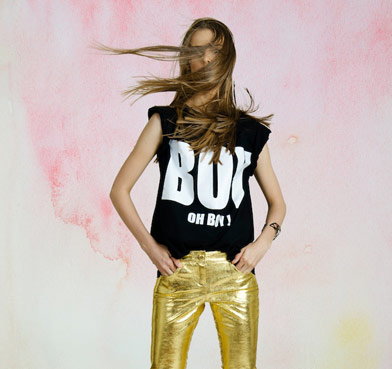 Magic Rush and Simple Touch
Let's imagine that Koncept 45.0 is a human being. Let's say that it is a 30 year old woman, passionately in love with design.
Read more