Grey Ant

36.900 RSD

Inbox: this exclusive frame embodies the Grey Ant aesthetic. A classic 1960's frame gets an unexpected overhaul. The illusion of a frame built into a lens much larger than itself. Handmade in Italy. Lenses: grey > zeiss optics. Dimensions: 14.5c...

Sarah's Bag

59.900 RSD

A witty addition to your casual styles, this printed and hand beaded canvas clutch features a pill shaped brass clasp that opens to reveal a secret compartment. Roomy Clutch Me bags are perfect for women who like their handbags big and their style st...

Nach Bijoux

8.000 RSD

Women tee-shirt with a printed flamingo. Straight cut, short sleeves, V collar. Small porcelain piece on the right sleeve. Hand-drawn pattern. Delivered with its laundry net. Composition: 100% cotton.</p> ...

Nach Bijoux

10.800 RSD

Hand-painted, adjustable porcelain ring. Brass with gold plate.</p> ...

Aloha From Deer

5.100 RSD

Have your own swimsuit during the summer! It's so awesome to be unique on the beach. Remember that! Material: 82% nylon, 18% spandex.</p> ...
Love stories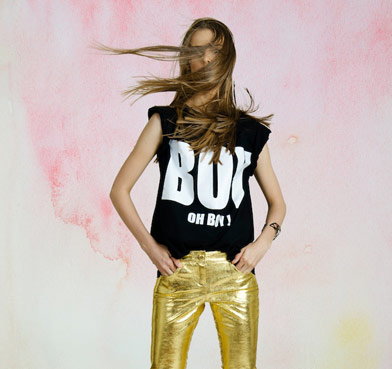 Magic Rush and Simple Touch
Let's imagine that Koncept 45.0 is a human being. Let's say that it is a 30 year old woman, passionately in love with design.
Read more